Current Trends and Future Outlook for Tea:
The first session of the morning featured a panel of leading industry market analysts. They presented their research on areas for potential growth in the tea industry. David Sprinkle, Jonas Feliciano and Lynn Dornblazer had their own take on how changes in the market would affect tea sales.
Here were some of the take-aways:
Growth expected in the Restaurant industry
Never underestimate the importance of convenience for the consumer
Growth opportunity for premiumization (their word) of tea
In developed countries a new approach is to deliver health through tea
"        "                   "           Functionality "what does tea do for me?"
In emerging markets it's important to consider a) distribution, b) Local appeal (customize), Convenience
packaged instant bubble tea is popular in Asia and could become popular in North America if adapted
Teas have a "health halo"
Ready to Drink sales are decreasing  slightly
Bottled teas with 'bits' ( jellies, tapioca, etc.) will catch on in N.A.
Tea as a beauty drink (tea with Collagen, Detox teas)
Savoury teas
Tea with texture. eg. foam
Kombucha
Look to the Global Market for ideas
 Create small indulgent treats
Value counts
Pu er with Kevin Gascoyne
It's always fascinating and a bit entertaining to hear Kevin Gascoyne (of Camellia Sinensis Tea House in Montreal) speak about tea and how he describes taste. On this occasion he combined a Pu er tasting with partial results of the current lab study they are conducting on the microbial content of Pu er tea. He brought along 6 Pu er and Hei Cha teas to taste.

On the Exhibit Floor:
Since this was the first day of the Expo and it was in a new venue (Long Beach Convention Centre) I decided to get the lay of the land. The walkabout was fun. I didn't feel compelled to stop anywhere but if something caught my eye I wandered over and got a little closer to the product and those representing it. Sometimes the product was more of an idea and philosophy as in the Chazen booth. And yes they do have a starter kit that will be on their site soon available for sale with a video guiding novices as to how to use the accoutrements. I met Rei Takeda an instructor in the Urasenke style tea ceremony and colleague Tatsuya "Tattoo" Kimura. Time stood still as Rei prepared bowls of tea for me and Rona Tison of Ito En.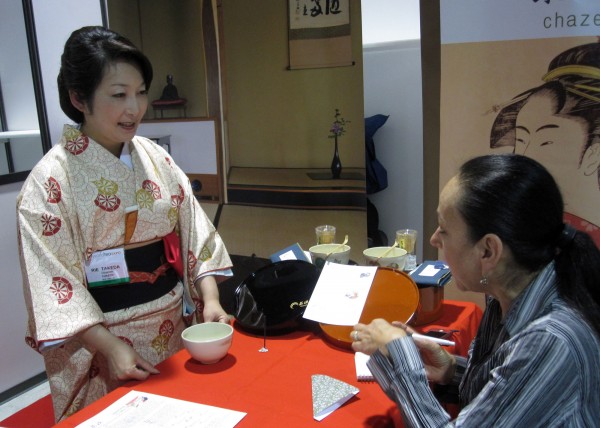 Nittoh
Another reunion with my friends from Nittoh. I first met them at the Hong Kong Tea Fair. Then last year at WTE and again this year. They pointed out some new product. Beautiful colours and patterns. Nice to end the post with a hit of pretty!
Tomorrow Day 2 – I will spend a bit more time on the exhibit floor and report back!