Advancing the Business of Tea
In World Tea Expo's 14 years, the popularity of tea has grown in North America and beyond. The market is crowded with online retailers – some with big dreams. How can the industry support them and what's the next step? The expo's tagline "Advancing the Business of Tea", suggests that there is work to be done examining other markets and ways in which tea and all its supporting product can be exploited (in a good way) and the consumer can be educated. Have a look at the White Paper, a compendium of articles by tea industry practitioners that was published recently to support the theme of this year's expo and to demonstrate how tea can benefit and enhance vertical markets.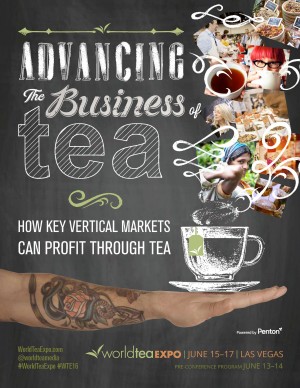 According to WTE Demographics, over 3500 tea professionals attend World Tea Expo. 69% of attendees are from the US (mostly the west coast) and 29% from other countries. Some are there to acquire the knowledge and contacts needed to start a tea business. Other tea professionals like myself, attend to learn of the latest trends, science and products that are now available. One can never over-estimate the draw of being surrounded by people with a common passion – networking and socialising play an important role in building a tea business.
The Conference Sessions
It's impossible to attend as many conference sessions as I would like, but I've managed to narrow it down to these few.
Wednesday, June 15th
8am North America: The New Cutting Edge of Specialty Tea    Kevin Gascoyne
9.45am Re-Evaluating Tea Education    Panel: Michael Coffey, Austin Hodge, Darlene Meyers-Perry, Kevin Gascoyne, Jo Johnson, James Norwood Pratt
11am Pu'er and the Science of Fermentation    Selena Ahmed and Noah ten Broek
Thursday, June 16th
8am Working With the Media: Learn from Top Tea Editors    Panel:  Lorna Reeves, Dan Bolton, Gail Gastelu, Jan Weigel, Linda Gaylard (me), Vanessa L. Facenda and a few others TBC
9.45am Climate-Smart Tea Systems    Panel: Selena Ahmed, Kevin Gascoyne and Mike Harney
11am Utilizing Social Media    Nicole Martin (2015 WTA winner, Best Social Media Reach)
Friday, June 17
 8am Being Provocative: The Art of Merchandising   Bill Waddington
9.45 In 2050, Will There Still Be Tea?    Nigel Melican
11am Tea Vessels = A Way To Steep Up Sales    Darlene Meyers-Perry
The Exhibit Floor
I prefer to meander the exhibit floor to see what catches my eye. Some years though, I've had regrets – missing booths that were buzzed about on blogs. I'd love to hear from you if you have any suggestions of exhibitors I should visit. I'm sure I'll miss a few things again this year, but I've done a bit of research and here are a few selections.
Booth 707  I have adored their teas since this company first launched a few years ago. They work closely with tea farmer co-ops in Nepal. So glad they are coming back to the expo. I'm pleased to announce that I will be a guest at their booth, signing The Tea Book on Wednesday and Thursday at 2pm. Come by and sample their remarkable Himalayan teas, fresh from the 2016 harvest!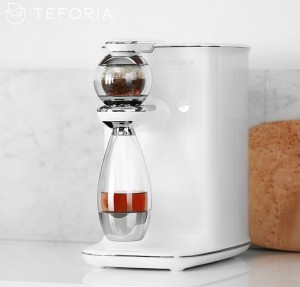 Teforia:Booth 318 Last year Teforia was cloaked in secrecy hidden inside a cube and viewed by invitation only. I was fortunate to be invited to see the infuser for real and taste the result of its unique and precise processes. I've been following their progress over this past year and I'm keen to see and taste now that Teforia is out of the closet (so to speak).
For Life:  Booth 518 Always my favourite with colour and sleek practical design. A favourite also of tea rooms for ease of use. They are introducing the new satin finish "Dew Teapot". Can't wait to see it up close.
Tea Diffuser, by Cupco  Booth 812  Hmmm – very curious. Couldn't find out anything about this diffuser on their website, but here's how it is described on WTE site "The safest and most effective way to diffuse the real and right tea work all day and night to spread scents around your store" – Now aren't you curious??
Scentone Tea Aroma Kit   Booth 149  A concept kit from S. Korea. Hard to tell whether this kit is aimed at only pure tea (Camellia sinensis) or includes the tastes of Korea's very popular herbal infusions. I expect the kit is meant to be a teaching/learning tool for tasters and sommeliers. It comes with an aroma wheel, aroma profiler and visual impression card.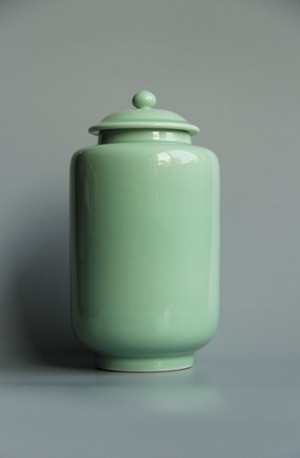 Celadon-glazed (Dongqing-glazed) Lantern Jar  Booth 126  The makers of this beautiful jar use techniques long forgotten in an attempt to recreate an old glazing technique. The Beijing Zhenluhao Tea Co. Ltd. has spent years trying to match the original Qing dynasty glaze and they now say they have reproduced it. "Celadon glazed porcelain, originated in Jiangxi procince's Jingdezhen, it was first made during Emperor Yongzheng's reign during the Qing dynasty." I'm looking forward to seeing it up close – very carefully!
Other booths I'm visiting, in no particular order:
Joseph Wesley Tea, Booth 833
Laos Tea, Booth 824
Cameron Tea Taiwan, Booth 524
The Tea Room Chocolate and Tea Co., Booth 826
Bitaco Unique Colombian Tea Booth 733
Anhui Shengchen Food Co. Ltd. Booth 233
Bredemeijer USA (teapots) Booth 407
Ido Co. Ltd. Fermented Korean Herbal "tea", Booth 626
Xin Mu Corporation (Taiwan) Booth 101
I will post as often as I'm able, although there are some wonderful things happening after hours off-campus. I've learned over the years that I've been attending, that it's important to leave time for spontaneity.
Some special events:
June 15th 5.30pm World Tea Awards The Tea Book is a finalist for best publication
Wednesday June 15, 1pm Tea Bloggers Round Table (on-site location tbc)
This prestige event promises to bring tea and food pairing to a whole new level and at a sky-high venue. Held at Michelin-starred Alizé restaurant at the top of the Palms Casino Resort, it is perhaps the first tea event of its kind in North America. Barbara Fairchild, former editor-in-chief of Bon Appétit magazine, will host, chef Mark Purdy will create seven tea pairing courses and Seven Cups Fine Teas of Tucson, Arizona will furnish the tea – exquisite Chinese tea. Dignitaries from China and India will be present to receive top honours from the International Specialty Tea Association for the quality and purity of their tea. If all goes well, this culinary event will convince us that when you bring fine tea and fine food together, not only will they get along, they will develop a lasting attraction.
One of the mouth-watering courses I'm eager to taste: "Third course: Ming Qian Anji Bai Cha Green Tea paired with 'Nduja crusted scallop, butternut squash and roasted parsnip hash and an orange-amaretto veloute. Braised white asparagus, lemon-poppy crescenza cheese, toasted almonds and parsley oil."
Wish me luck and check in with me on social media: Twitter and Instagram @theteastylist