Ephemera
I recently inherited boxes of family photos, ephemera, dishes, etc. Having culled the less important material, I'm now left with the more interesting remnants of past family life. There are plenty of faded black and white photos of my Dad's family, in particular his mother who I never knew.
Tales from my Mom's side of the clan had become part of family culture since I was very young, but legends from my Father's family and the characters that may have inhabited them were dimly missing from the lexicon of daily life, even though we were raised a few doors from his childhood home. I'm quite certain that my Mother's tense relationship with her Mother-in-Law was the prime reason for this. 'Stern' and 'strict' were adjectives my Mother used to describe her.
As I wend my way through the hundreds of photos and postcards, I'm gradually piecing together a portrait of the paternal grandmother I never met. Emma, or Ma, as her family called her, grew up near Leicester, England and met and married her husband Ted near Morton, Derbyshire where, as a stone mason/brick layer, he established a productive contracting business. His specialty was building homes for the newly arrived middle class during the Edwardian period. While living in England, they had three children. Their youngest child, a daughter, suffered severely from an upper respiratory problem – probably Asthma. Doctors advised a drier climate and suggested they move to Canada. Pop (as we called my Grandfather) went on ahead to scout out business opportunities and a new home in the city of Hamilton, known for it's burgeoning steel industry. Emma was not enthused about the move. She had friends, family and a comfortable home that she was reluctant to leave.
Steamer Trunks
As she readied the children and prepared to make the long trans-Atlantic crossing, it must have been difficult to decide what was important enough from their life in England to include in the few steamer trunks that would be making the voyage with them. As I was sorting, I discovered most remarkably, – leaning against a wall in the attic, behind boxes of books, – a very dusty, large, mounted Diploma from a "Currant Cookery Competition". It was presented to Mrs. E. Gaylard on behalf of His Majesty, the King of Greece (King George I) at the Universal Food and Cookery Exhibition in London around 1906 (my guess).
Cookery for the Working Class
One of the signatures on the diploma (bottom) belongs to C.(Charles) Herman Senn, a leading influence in the English Culinary landscape from the 1880s to the 1930s. He was a founder of the Universal Food and Cookery Association, London, who were also sponsors of the Currant Cookery Competition. He wrote over 30 cookbooks and trained hundreds of young chefs at the Westminster School of Cookery in London until his death in 1934. His books made the art of cookery accessible to the working class, who learned the meaning of fricasée, soufflé and remoulade. Forgotten Books have made several of his old cook books available to read online.
The Black Corinthe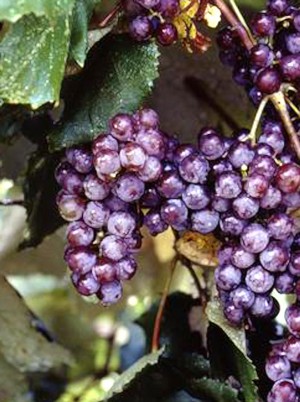 The competition was no doubt a promotion to encourage the sale of Greece's major agricultural export at the time – the Black Corinth, species: Vitis vinifera, a small grape that was used in some wines, but favoured dried. We know it as a small dark sweet raisin. It was named for the Greek port closest to the vineyards where it grew. At the time of the Exhibition, currants greatly influenced the Greek economy and in the late nineteenth century a financial institution was formed (currant currency?)  to encourage foreign investment in the export of the currant.
The Black Corinth should not be confused with the red, black and white currants of the genus Ribes that grow in hedgerows and are used in jams and jellies. The Greek currant is now grown successfully in California and known as the Zante Currant. Currants are used in chutneys, jams, pies, mincemeat, steamed puddings and scones (the proper British pronunciation of scone rhymes with gone).
Royal Scones and Builder's Tea
This is where I qualify the Diploma as a 'tea relic'. While I cannot be sure how Emma chose to showcase her Currant cookery skills, as this is not revealed in the Diploma, I think it is safe to assume that whatever she entered would have been enjoyed with a cup of tea, maybe a good stout "builder's tea", of which I'm sure my Grandfather drank gallons.  I'm going to assume her entry was scones (with currants). One of Senn's now out-of-print cook books, Royal Baker and Pastry Cook included the following recipe for scones, using British measurements of the late nineteenth century.
I had to find equivalent measures for North America. I weighed the flour and perhaps it was a coincidence, but it filled a 2 cup measuring cup.  Here is the recipe with the translations in purple brackets.
Scone recipe from Charles Herman Senn's The Royal Baker and Pastry Cook
 ½ lb. flour 

(2 cups)

1 oz. castor sugar (2 Tbsps of fine sugar – I ground my own, but you can buy it)
2 oz currants

(Approx. ½ C)

1 gill milk

(½ C)

2 oz. butter

(¼C)

1 ½ level tsps Royal Baking Powder (they are the lead sponsors of the cook book)
Small pinch salt
The instructions in the excerpt above are pretty straight forward, so follow them. I used a 325°F oven for 25 minutes. Yield: one dozen.
I don't think my scones will win any prizes, but they were tasty. Not as rich and fluffy as we have come to expect with cream teas, but very authentic. More like a mini bannock, with a crusty outside and a dense inside.
A Settled Life
Emma eventually settled into her new life. She had 3 more children. My Father was one of a pair of identical twin boys she had at age 41. Her oldest son was 18 at the time. My grandfather received some large contracts, hired workers, became a prominent member of his Masonic Lodge, and even ran twice for city council (unsuccessfully). Emma managed to visit her sister in England several times. The trip was likely subsidized by Sis as she was married to a car manufacturing executive and was childless.
The dust and soot of a century covered the photos and ephemera that I have excavated from storage, but through this process I've managed to find a way to animate Emma's personality. She may have been rather stern –  after all she raised 6 children through a trans-Atlantic move, WW I and the Great Depression, but I notice that in photos, she always looks happy when she's with her children. I remember a relative telling me that she was generous, big-hearted and a good neighbour. I found a picture of her that is uncommonly un-posed for its time. This is how I would like to fancy I may have known her – relaxed and smiling – but with flour on her hands.
Save