Reflecting on Sunday June 26
My badge is hanging by my desk, a reminder of an extraordinary weekend. I'm back home and looking over the many fine teas I will be sampling, business cards I collected and photos of people and product. World Tea Expo may be over for another year, but the friendships and contacts will keep building.  Sunday was all too short and I spent a good deal of it exploring the exhibit's booths. Even though the vendors were fatigued they still had time to talk and share.  I'm feeling pretty high from it all, so let me try to remember the whirlwind of last chance visits before I got on the plane and flew home.
I'm so glad that I was able to spend the day connecting with growers and suppliers that I hadn't had a chance to meet on Friday or Saturday. I don't run from booth to booth – I take some time to hear the story and that slows me down a bit, but it's worth every minute.
Tea Infusion Challenge
The Tea Infusion Challenge was moderated by Suzette Hammond, last year's winner. She was vivacious, entertaining and informative. The 4  judges provided teas from their companies: Thomas Shu of ABC Tea – Taiwanese Golden Oolong; Fumi Sugita of Aiya America – Matcha; Mo Sardella of  G.S. Haly Company – 1st flush Darjeeling; Manik Jayakumar of Qtrade Teas & Herbs – Pu-erh.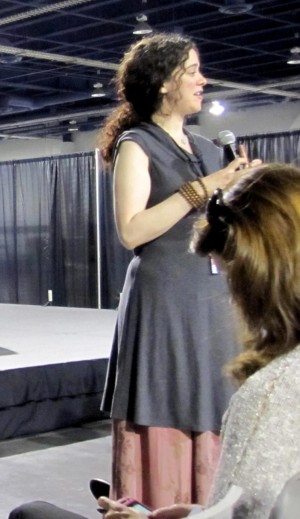 The brave contestants were Steven Downer of Sipping Streams in Fairbanks Alaska, Kasia Vermaire a Tea Sommelier and consultant from The Netherlands, Jonathan Munsayac is the Owner and Director of Operations at Tranquil Tea Lounge located in Fullerton. California and Amy Lawrence from An Afternoon to Remember. Their kettles were bubbling and their beautiful teawares were gleaming. Precious teapots and cupping equipment had been carefully packed in their suitcases for the long trip. Each had their own style.
I was nervous for them. I imagined myself on the stage trying to be precise with so many looking on, being judged by giants in the industry and having only 15 minutes to prepare 4 teas. I worried about spilling hot water on myself and ambulances rushing to the scene. Drama aside, the genial and happy Jonathan Munsayac had a surprise when he arrived at the Expo with no tea ware expecting that the Challenge would be supplying him. He spent a few days on the exhibit floor asking friends/exhibitors who happily lent him the equipment he needed. I was so impressed with his attitude.
The Infusing Challengers seemed a little nervous at first – there were some shaky hands, but they soon got into the rhythm and in 15 minutes had prepared 4 teas for the judges to taste. The Winner of the 2nd Annual Tea Infusion Challenge was Steven Downer. Specialty Tea has posted a few really good videos of the Challenge on YouTube. Everyone's presentation was individually beautiful – each of them deserved to win, but in the end it comes down to taste. Steven's infusions were on the mark. Congrats Steven!!
The round cake is still quite uncommon, but has started to have an appeal and makes a beautiful gift.  I have this in my possession and will be happy to show you how to prepare it in the next few weeks and provide you with a review. In the meantime visit O5 Tea for more info on fine S. Korean teas.
This Weekend We created a village…
I wish I lived in a village where we spent our days discussing tea, drinking tea, cooking with tea, buying and selling tea.  World Tea Expo is as close as we'll get to that experience and I applaud George and Kim Jage and their team for giving everyone an amazing opportunity to build their tea businesses.  A few days ago I heard via twitter about some impromptu tea sessions that took place in the evenings in a suite at the Hilton that Chan Tea had rented. Read their post. Brilliant! Until next year or WTE East, we will have to continue to expand the community ourselves one tea friend at a time.